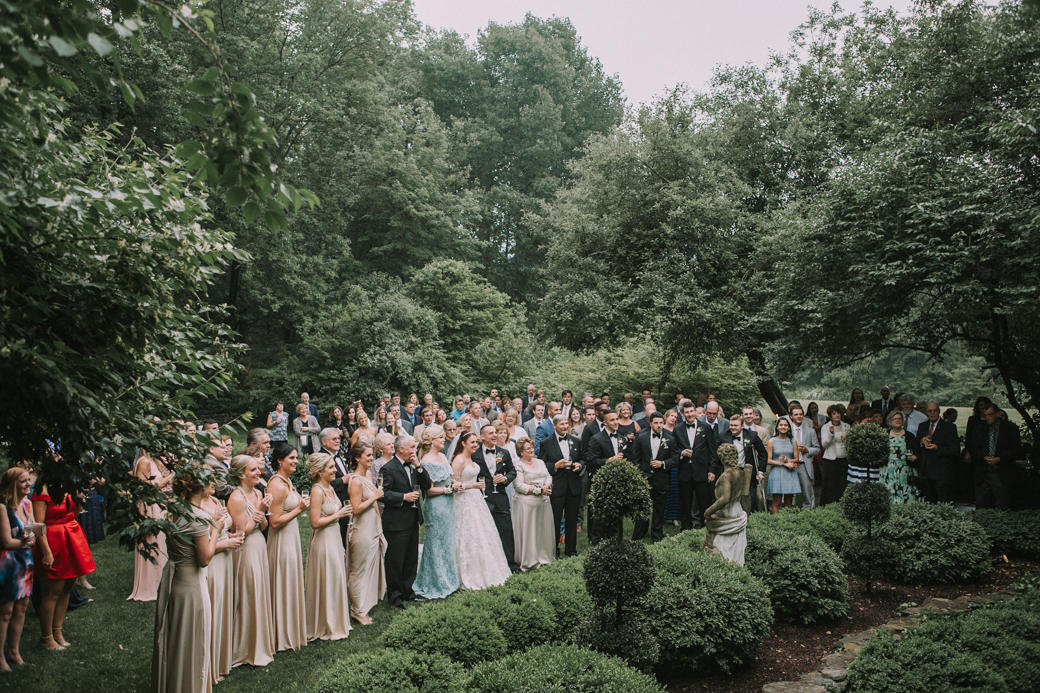 Romantic Manor House Wedding in Connecticut :: Jacquelyn & Zachary
This wedding is definitely proof that when you pick a spectacular venue like the Lord Thompson Manor, the hard work is just about done for you. Isn't this place incredible? This was a traditional, romantic celebration that was a perfect fit for the Manor itself – just like the bride's cathedral length veil and tiara!  The only extra decorations required?  Florals in a pretty, fresh palette of white and peach.  See more below!
Tell us about your beautiful venue. Our reception was at the Lord Thompson Manor in Thompson, Connecticut, a beautiful country estate. This venue is unique because you stay there for the whole weekend, Friday-Sunday. It's amazing – you spend time with family and friends (bridal party) on Friday, and we had our rehearsal dinner there too. The Manor set up one long table for over 40 people – it was insane! There are rooms at the Manor for the bridal party and family to stay in. Then you wake up Saturday to get ready for the wedding (in the venue's spa for the girls, in the rooms at the Manor for the guys, and then Sunday morning we had a big send-off brunch with everyone. It was the best weekend of our lives spent with all of our favorite people at a truly magical place.
What was the best advice you received as a bride? To take it all in as much as possible on the day because it goes by so fast. I remember waking up and reading a card from Zach around 7am and already crying (our Maid of Honor and Best Man delivered cards and gifts we got each other that morning.) I was so excited and nervous – I knew I had to just breathe and cherish every minute. It was really amazing to be surrounded by our favorite people. Everyone was so excited!
Did you include any traditions in your wedding? Yes, we tried to keep the wedding as traditional as possible. Jacky did follow the bride's tradition of having something old, new borrowed and blue. We slept apart the night before and spent some quality time with our groomsmen and bridesmaids. It was difficult being apart! We were both so excited and just wanted to see each other.
The Ceremony
Why did you choose this location for your ceremony? Christ Church in Pomfret, Connecticut is the church that Jacky grew up attending with her family. It is a beautiful and intimate setting – the chapel is filled with stained glass windows and offers a unique and romantic setting.
Who officiated your ceremony? How did you choose him/her? The Rector of Christ Church, Reverend David M. Carter, officiated our ceremony. He has been at Christ Church since 1996, and it was important to Jacky to get married in the church she grew up attending. Thankfully Zach was very supportive, even though it was not the church he grew up going to.
How did you go about planning your ceremony?  We planned our ceremony ourselves and modeled it to be fairly traditional in regards to the music and the service itself. It was important to us to have family members involved with it, so we each had a member of our family do a reading. Jacky's friend and former dance team coach from UConn, Sarah Harrington, offered advice and a beautiful template for the layout of the ceremony, including music and text that we fell in love with.
What were your ceremony readings? Jacky's cousin Ryan Augustus read the poem I Carry Your Heart With Me by e e cummings, and Zach's Godfather read I Corinthians 13.
Did you include any traditions in your ceremony? We recited traditional vows instead of writing our own. We were both a bit nervous that we'd be too emotional to get through saying our own –and there's something really romantic about reciting vows that have married people for years and years.
What were your vows like? We chose traditional Episcopal vows from the Episcopal Book of Common Prayer.
What was your favorite thing about your wedding ceremony? Zach: "When we were announced as Mr. and Mrs. Zachary Putnam and then turned to walk down the aisle – seeing the looks of love and happiness on all of our friends and family's faces."
What was your ceremony music? Processional – Canon in D by Pachabel / Procession of the Bride – Bridal Chorus by Wagner / Recessional – Wedding March by Mendelssohn.
What advice do you have for other couples in the midst of planning a wedding? Be kind to yourselves and know that this is your one day to do what you want; try not to stress about things that other people might have an opinion about and just do what makes you happy! It will be the best day of your life.
Do you have any budget tips for other brides? Spend money on things that are important to you like having amazing pictures or great music. We had the most amazing photographer, Ashley Largesse, who made our day even more fun and amazing. Weddings are expensive and the costs of things add up quickly and can be overwhelming—we knew what our big ticket items were and came to terms with that fairly quickly. We also kept a fairly detailed spreadsheet of all of the wedding expenses so that we could see how much we were spending from beginning to end.
The Reception 
What was your favorite moment or part of the reception? Our favorite part of the reception was during the Best Man and Maid of Honor speeches. The staff at the Manor gathers everyone to the side garden, where the Best Man and Maid of Honor stand on a balcony above everyone and give their toasts, which serves as the kick-off to the evening. It was magical and both of our best friends gave incredible and touching speeches. Then our photographer Ashley Largesse magically appeared on the roof of the Manor (she literally climbed out a window) and took an aerial shot of everyone toasting us in the side garden.
Why did you choose this location for your reception? The Manor is so incredible, and the team there and the owners pay attention to the smallest details. When you walk in it literally takes your breath away – the level of attention and care that they put into every last detail from the food presentation, to the décor in each room, the timeline… everything! They run a tight ship there, and since we're both Type A that was great for us.
What inspired you when you were planning your wedding? We wanted it to be traditional, romantic and fun. Both of our parents have been married for many years (Zach's parents for 45 years, and Jacky's parents for 28) so they were a huge inspiration for us, and we wanted to pay homage to that and have a wedding that reflected love and family. We loved the heirloom touches in the overall design and feel of each room within the Manor…it was very elegant. It felt like a dream!
Are there any DIY details you'd like to tell us about? Both of us combined are the worst DIY-ers ever, so basically nothing was DIY. With a venue like the Manor, you really don't need to do any DIY special details because the venue is spectacular and each room has a beautiful design and decorations. They have an incredible inventory and can tailor it to each couple, down to the type of cutlery, candelabras, table cloths, the list goes on!
What type of cake or dessert did you serve? We had a three-tiered cake that was half chocolate, half vanilla (we couldn't decide!) with buttercream frosting.
What was your first dance song? Our first dance song was Home by Edward Sharpe and the Magnetic Zeroes, but we danced to a slower, more acoustic version.
If you had it to do over again, is there anything you would do differently? Nothing! We joke that we should fake split up so we can get married at the Manor all over again!