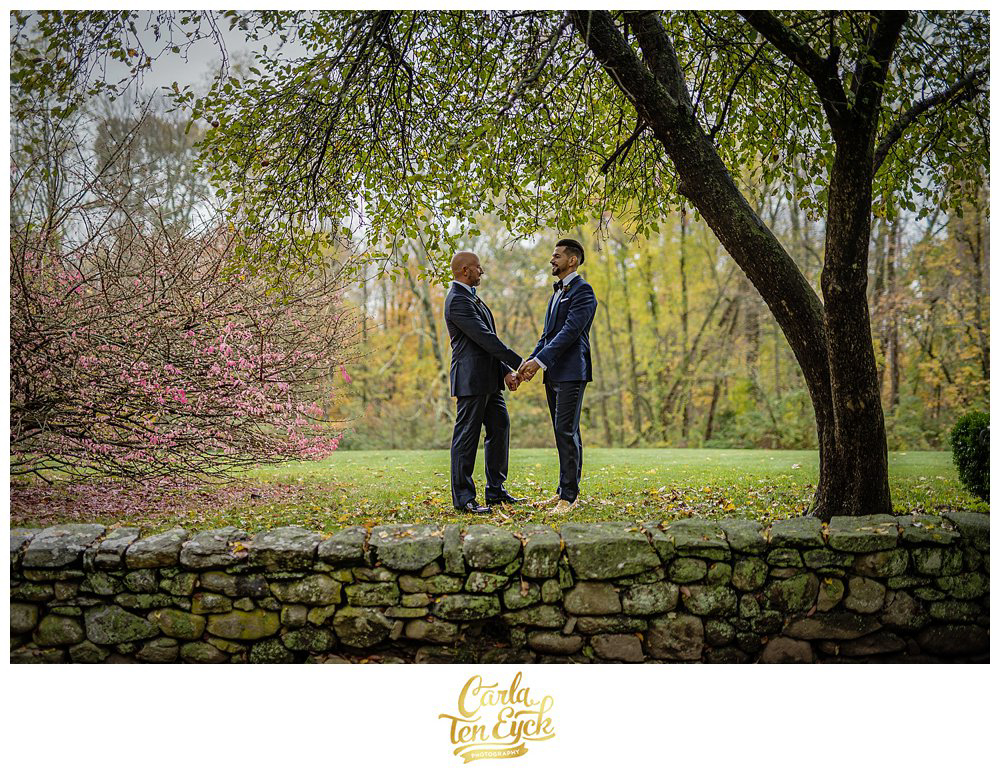 SAME SEX WEDDING AT LORD THOMPSON MANOR WITH CARLA TEN EYCK
Brendan + Ryan were married this fall at Lord Thompson Manor, one of my very favorite places in Connecticut to work, of so many reasons. The way they treat everyone just makes me never feel like I am 'working' it feels more like a family all pulling together for our friends. Brendan + Ryan are also two of the most open and loving people, with such style and attention to detail it made my heart and eyes sing so loud! No detail was left out- and between these two lovelies and the staff at the Manor AND the ladies of Jubilee Events doing their thang?? It was a wedding for the books, baby!
The day was dramatic throughout only due to the weather that threatened rain up until literally moments before their ceremony was supposed to start, so inside we went for the ceremony! Hana Floral set up their over the top amazing florals inside and our officiant Mary Coburn did her thing. Her words are always so insightful and deep and I find myself getting really absorbed in what she says about each of my clients that she speaks on. It's truly a beautiful part of the day, and one that sometimes can get overlooked for details or food or dancing. The ceremony and the act of getting married is what the entire day is truly all about. They chose each other to spend the entirety of their lives together, forever and to share that day with us all. It is such a beautiful part of the day, I truly love losing myself in all of the words and love. It gives me hope each and every time that I will find that for myself one day too! I love being inspired by the love my clients have for each other, can I just shout about what an amazing job I have?
Brendan + Ryan, thank you so so much for trusting us with your day, for opening up and allowing me to see you both for who you are! You are beautiful people, inside and out! XOXOXO
my creative partners for the day!
second photographer: Joel Callaway
officiant: Mary Coburn
venue: Lord Thompson Manor, Thompson CT
design + planning: Diana Chouinard of Jubilee Events, Cheshire CT
suit: Tom Ford
cuff links: Alexander McQueen
shoes: Christian Louboutin
floral: Hana Floral, Noank CT
paper: Coral Pheasant Stationery + Design
entertainment: Kerry Beach + Elan Artists, NYC
cake: On the Rise Bakery, MA
Photo below by Joel Callaway